Foundation Stage
Introduction
Hello!
We have had a busy and exciting year this year and have very much enjoyed a return to normality after the pandemic! The year has flown by and we cannot believe that the time has come to welcome our new cohort of children into Halling School. It was lovely meeting some of you during the parent tours and at our story time sessions earlier this year.
There is a 'New Parents and Carers' meeting on Wednesday 15th June at 5pm; letters inviting you to this have now been sent out. In the meantime, on our page, there are some suggestions of activities, books and website links that you may like to try before your child starts school. There are also some photographs of our Foundation Stage environment and videos of some of our Foundation Staff reading stories. We will be adding to our page over the next few weeks, with more stories and a power point detailing our transition procedures and what learning looks like in our setting. We are currently contacting pre-school settings and hope to visit as many of the children as we can, before the end of the school year.
If you have any questions or concerns, please do not hesitate to contact our school office: office@halling.medway.sch.uk and we will get back to you.
Best wishes and we look forward to seeing you on the 15th June.
Tina Woolmer
Early Years Foundation Stage Leader

Take a Tour of Our School!

Topic and Termly Overviews

We are very lucky at Halling School, in that our classes were purpose built three years ago. We are separated from the main school building by the playground which means we can see what's going on in the rest of the school but they can't hear us!
Our two classrooms are partially open planned which makes them ideal for when we work together as a key stage in our child initiated, Playing and Learning times. The children enjoy being able to move freely around, both inside and out, playing with friends from both classes. We have a snack bar, where the children can help themselves to fruit, cereal or toast. There is also milk or water for the children to drink. Afterwards, they wash up or put their cups etc in the dishwasher themselves!
We have our own, fenced off, outside areas that include an astro-turfed space and a wooded area. We have a range of equipment that the children enjoy using to build anything from pirate ships to superhero dens! We feel very lucky to have our own wooded area, with it's digging pit, mud kitchen and bug hotels! We like to go outside everyday and have waterproof suits for the children to wear so that they can use it in all weathers! (We do ask parents to send in welly boots to keep in school, though).
We encourage the children to be independent learners through a wide range of resources and invitations to play. Our learning environment is designed with our children's interests at heart and with lots of opportunities for open-ended play.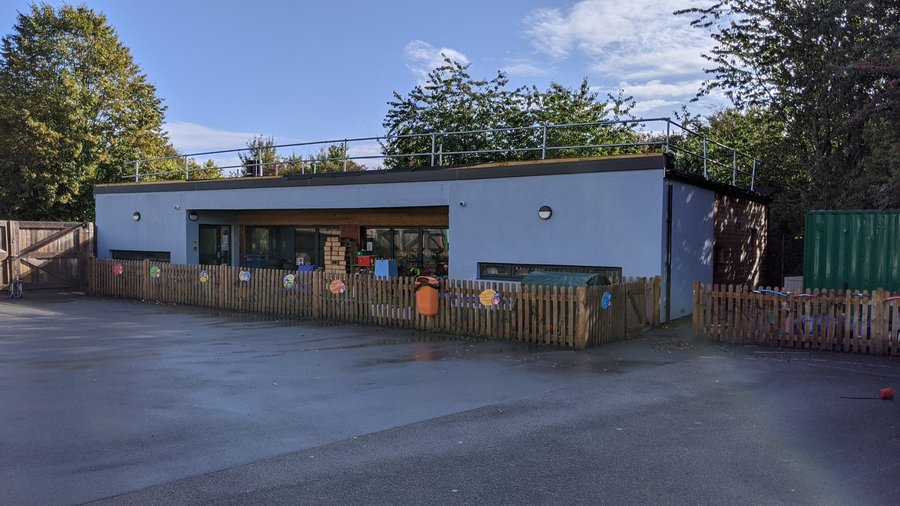 Getting Ready For School
Starting school is a very exciting time for both children and parents but we know that it can also be a daunting time. We know that there are some common worries amongst parents with one of the main ones being, 'are they ready?' This is often one of the first things we are asked and this year even more so.
Every child starting school is unique and comes with different experiences and skills. It is our job to get to know all the children and build on what they already know.
We definitely do not expect the children to come into school being able to read and write! There are many things however, that you can do at home to make the transition into school easier for everyone. Here are some things that we would love your child to have practiced at home before they come to school in September:
Go to the toilet independently and be able to wipe themselves. We understand that it's tricky as their arms don't seem long enough but it would really help if you could encourage them to do it independently at home.

Wash and dry their hands properly. This year everyone has had lots of practice with doing this!

Put on and take off their own shoes. Shoes with Velcro are the easiest for children to do unaided. Buckles and laces are trickier! We will always praise the children for putting their own shoes on . . . then gently remind them to put them on the right feet!

Put on their own coat. If they can do it up themselves that's even better but this usually comes during their time with us.

Dress and undress themselves. This we know is not an easy task but the more they try it, the more confident they become. They will get lots of practice every week when we change for Forest School.

Recognise their name. Some children may come to school being able to write their name but the majority will learn this skill during the first terms in school. If they can recognise their name or the first letter of their name, this will help them to find their coat peg etc.
We will never leave a child to struggle with something they aren't able to do and some children will need more help than others. We will always encourage a child to have a go and model the best way to do it to build their confidence to achieve it themselves. One of the best parts of the job is seeing a child achieve something they've been struggling with!
When the children first start school, the most important thing for us to do is to get to know them, what they like, don't like and what interests them most. We will have a chance during our initial meeting in school to answer any questions and for you to share any particular concerns you may have.
When the children first start school
Children, and parents, react differently on that first day in school! Hopefully your child will be fairly confident and ready to stay with us. Some don't even look back to say goodbye! Others will need some coaxing to stay. We will always comfort those that need it and they often quickly forget why they're upset when they see something or someone that interests them!
Keeping in touch
We are always there for you to talk to before and after school and will let you know if something has happened during the day. If something has happened at home, or your child has had an unsettled night, please let us know as sometimes this means they may need a little more support during the day.
Useful links
There are probably lots of questions you would like to ask and normally these are easily answered during our new parents meeting and 'ready for school' parents' workshop. Hopefully we can chat about them in our initial meeting in school but in the meantime here are some website and links that you can look at:
Below are some helpful documents you can download to view.
Final thoughts . . .
As parents, you are your child's greatest teacher and role model!

We are in this together! Always feel free to ask any questions or mention anything that you're worried about.

We are really looking forward to getting to know you and your child and will see you (virtually or in real life) very soon!

Listen to the EYFS Team reading one of their favourite stories...