Physical Education Subject Leader: Mr D Harrison
By embedding a high-quality physical education curriculum, it helps to inspire our pupils to excel in competitive sports; providing opportunities for pupils to sustain their health and fitness.
Halling Primary School recognises the importance of Physical Education (P.E) and we follow the aims of  the national curriculum as a minimum to ensure that all children can:
develop skills and understanding to achieve a broad range of physical activities
be physically active for sustained periods of time in some vigorous exercise
engage in competitive sports and activities
understand how to lead healthy, active lives
Children will have the opportunity to reflect upon their performances and give feedback to others. PE  and school sports will also be used to further embed the school's core values of respect, compassion, integrity, thankfulness and resilience.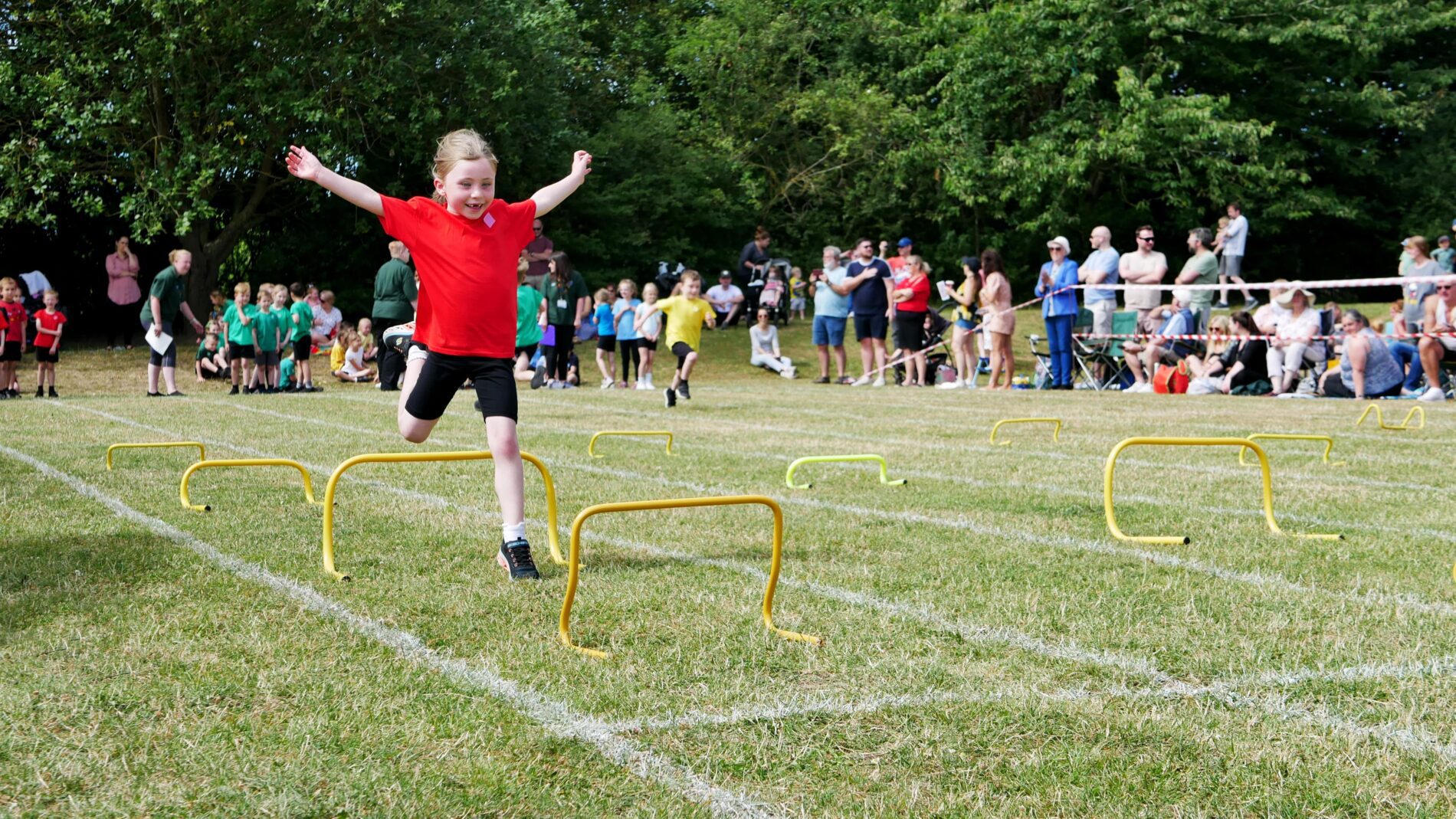 P.E. is taught as a stand-alone lesson for two lessons per week to each class. Cross-curricular links have been established to also encourage further active lessons. The use of House Captains and Zone Leaders is also implemented to increase opportunities to participate in competitive activities that develop knowledge and skills to defined end points.
We teach lessons so that children:
Have fun and experience success in sport
Have the opportunity to participate in P.E at their own level of development using adaptive teaching
Secure and build on a range of skills both across year groups and termly within all year groups including EYFS
Develop good sporting attitudes that are also upheld in the school's core values
Understand basic rules
Experience healthy competition
Participate in some demanding physical activity to enhance fitness levels
Learn in a safe environment
Have a foundation for lifelong physical activity, leaving primary school as physically active and bearing the knowledge of how to maintain an active lifestyle
Structuring our learning around the Quigley approach helps children to:
Acquire new knowledge and skills exceptionally well and develop an in-depth understanding of PE.
The willingness to practise skills in a wide range of different activities and situations, alone, in small groups and in teams and to apply these skills in chosen activities to achieve exceptionally high levels of performance.
High levels of physical fitness.
A healthy lifestyle is achieved by eating sensibly, avoiding smoking, drugs and alcohol and exercising regularly.
The ability to remain physically active for sustained periods of time and an understanding of the importance of this in promoting long-term health and well-being.
The ability to take the initiative and become excellent young leaders, organising and officiating, evaluating what needs to be done to improve, and motivating and instilling excellent sporting attitudes in others.
Exceptional levels of originality, imagination and creativity in their techniques, tactics and choreography, knowledge of how to improve their own and others' performance and the ability to work independently for extended periods of time without the need for guidance or support.
A keen interest in PE. A willingness to participate eagerly in every lesson, a highly positive attitude and the ability to make informed choices about engaging fully in extra-curricular sports.
The ability to swim at least 25 metres before the end of Year 6 and have the knowledge of how to remain safe in and around water. Cross-curricular links can be made with a range of other curriculum areas perhaps notably English, Drama, Music, History, Geography and Assemblies.
P.E is taught as a foundation for living a healthy and active life; giving children the skills and confidence to continue to pursue physical activities when progressing to secondary school. Children have access to a  wide range of activities that enable them to learn skills which can be transferred to other scenarios. The curriculum and range of competitive sporting fixtures inspire children to succeed, further develop/embed the school's core values and build character.
Physical Education in Each Stage
Throughout EYFS Physical Education, children will be given opportunities to develop the main four different types of strength: core, shoulder, hand, and leg in order to gain mastery over their large muscles.  This is obtained through day-to-day child-initiated as well as in PE, where the pupils are given the chance to run around, play, and participate in games (including on Scoot balance bikes and scooters), where they are also taught key motor skills such as stability and object control.
Children should develop fundamental movement skills, become increasingly competent and confident and access a broad range of opportunities to extend their agility, balance and coordination, individually and with others. They should be able to engage in competitive (both against self and against others) and cooperative physical activities, in a range of increasingly challenging situations. Children should be taught to:
master basic movements including running, jumping, throwing and catching, as well as developing balance, agility and co-ordination, and begin to apply these in a range of activities
participate in team games, developing simple tactics for attacking and defending
perform dances using simple movement patterns
Children should continue to apply and develop a broader range of skills, learning how to use them in different ways and to link them to make actions and sequences of movement. They should enjoy communicating, collaborating and competing with each other. They should develop an understanding of how to improve in different physical activities and sports and learn how to evaluate and recognise their own success. Children should be taught to:
use running, jumping, throwing and catching in isolation and in combination
play competitive games, modified where appropriate (for example, badminton, basketball, cricket, football, hockey, netball, rounders and tennis), and apply basic principles suitable for attacking and defending
develop flexibility, strength, technique, control and balance (for example, through athletics and gymnastics)
perform dances using a range of movement patterns
take part in outdoor and adventurous activity challenges both individually and within a team
compare their performances with previous ones and demonstrate improvement to achieve their personal best
participate in swimming lessons with the target of achieving consistent stroke and breathing techniques across a set distance in addition to developing water safety skills.
Physical Education Progression
At Halling Primary School, we follow the Chris Quigley 'Essentials' Curriculum which sets out essential coverage, learning objectives, standards, and progress measures that are required for all subjects.
Across the curriculum for Years 1-6 (with EYFS following their own targets), learning will be grouped into three Milestones:
Throughout Y1 and Y2, children will be assessed on the concepts contained in Milestone 1.
During Y3 and Y4, all children will be assessed on the concepts contained in Milestone 2.
Finally, in Y5 and Y6 all children will be assessed on Milestone 3.
During each term, we will continuously assess the depth of children's understanding within that term's Milestone
PE lessons are adapted for SEND and more able pupils are challenged and given opportunities to lead and demonstrate. Lessons follow our TWEAK IT through adaptive teaching to enable learners to achieve.
Physical Education Extra Resources
For remote learning, please visit our remote learning page or contact our Head of PE for more information.
Further PE Help